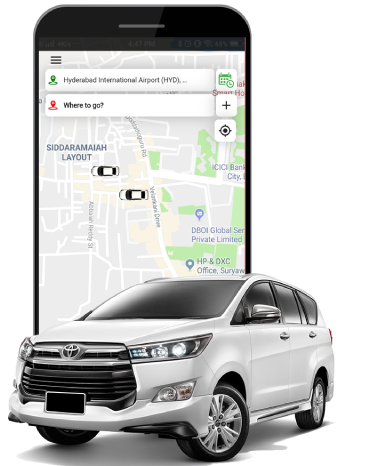 Book Taxi Service in Hyderabad
Book Taxi Service in hyderabad. we offer Taxi Booking in Hyderabad Outstation Taxi Service in Hyderabad Airport Taxi Service in hyderabad,city cabs in hyderabad, local touring cabs in hyderabad and outstation Taxi Service in Hyderabad with lowest fares. we are the no.1 Cab services in hyderabad to provide best cab services and cab rentals in hyderabad. Taxi Service in Hyderabad cabs in hyderabad now becomes a peace of mind. Vrcabs offers Cheap & Taxi Service in Hyderabad Call Taxi Service in Hyderabad.
Vrcabs is the reliable and largest cabs booking Taxi Service in Hyderabad company in hyderabad.
Vrcabs has a highly Experienced Dedicated Drivers to operate 24/7 Cab Services and Customer Support. We are providing the Cheapest Cabs in Hyderabad for just @8/Kms. Vrcabs has Excellent Track Record in maintaining the On Time Cab Sevices,best Tariff in Hyderabad and enhancing the customer satisfaction.
When you book a Taxi in Hyderabad with Vrcabs, we guarantee that your cab will be on time, your trip will be affordable and you will be able to avail of our services across in Hyderabad. We provide honest service when you book cabs in Hyderabad so you can spend the total day going around the city with rest. When you book a cab/Taxi, you can sit back and relax your drive around Hyderabad. Whether you're hurrying to meetings or going shopping, we'll help you pick the best car to suit your needs on your trip.You can choose from Indica, luxury sedans to Innova to suit your every trip you need. Now, you can book the Taxi Service in Hyderabad by calling us on 07702664048. if you need a car for your day out in the city. we will help you plan your itinerary and walk you through how to make hassle-free bookings on our website. If you already have your itinerary and are you looking for a reliable way to make a taxi booking in Hyderabad, you can log on to Taxi Service in Hyderabad and book your cab.
Taxi Service in Hyderabad is a much more reliable alternative to radio cab services in Hyderabad. In addition, the services are extremely Affordable that will fit Every Travelers Budget. Avoid the hassles of constantly communicating with the Call Center Departments of the Radio Taxi in Hyderabad by availing the instant Online Booking Services at Vrcabs. Make the Best use of the services offered by Vrcabs at the Lowest Rates & Experience the Relaxing and trouble free Journey by Booking Cab Service in Hyderabad. We have satisfied customers.
Travel Hyderabad through Vrcabs
You can travel to your favorite Destinations from by availing the services of Taxi Service in Hyderabad from Taxi Service in Hyderabad. Taxi Service in Hyderabad is Telangana and Andhra Pradesh's No.1 platform to Book Cabs in Hyderabad. To enjoy a stress free and convenient travel, you should choose to hire Cab Service in Hyderabad.
Have a great time with your friends and family while enjoying our best in class services for cab services in Hyderabad. By availing Vrcabs cab services in Hyderabad, you will have the flexibility to choose your preferred car model from the wide range of vehicles in our fleet of cabs in Hyderabad.
Get assured the timely availability of cars, reasonable Hyderabad taxi fare and courteous drivers. Our drivers are well versed with the Routes from Hyderabad and you will reach your Destinations in Best possible Time. You no longer should haggle with drivers who charge unreasonable fares, through vrcabservices.com you will get the best standardized fares for Cabs in Hyderabad.
VRCABS has carved a niche for itself in the Indian taxi industry by providing best in class services at Affordable Prices. It has grown to become India's largest player in the intercity taxi segment by consistently delivering value for the last 3 years. The pointers below highlight VRCABS's car rental differentiators. Online taxi booking in Hyderabad hourly package city roaming and we satisfied the customers.
Hyderabad is the capital of Telangana, it is a Metropolitan Happening City in India. Visit Tourist Places in Hyderabad & Enjoy Your Trip with VRCABS . We are the Best Cabs company in Hyderabad offers City Taxi @ Rs.8/Km. Customer can Book Taxi for Sight Seeing in Hyderabad for Lowest Rates.
Taxi Service in Hyderabad
VRCABS providing Reliable and Best Cab Service in Hyderabad, which offer Taxi Service to Taxi Service in Hyderabad Fixed Route Service.We have Special offer for Taxi Service in Hyderabad Taxi Service in Hyderabad. We provide Cabs & Taxis for Hyderabad Taxi Service in Hyderabad Pick-Up & Drop-In. Call us for Cheapest Cabs. Book VRCABS Cabs Throurh Phone BOOK THROUGH WEB OR PHONE
Taxi Service in Hyderabad
VRCABS is the No.1 Taxi Service in Hyderabad. We serve the Cabs for Taxi Service in Hyderabad @8/KM using our Taxi Service in Hyderabad. Hyderabad/Taxi service in Hyderabad, VRCABS car rental companies in Hyderabad Telangana outstation taxi booking. Are you looking for cheapest Taxi Service in Hyderabad, Taxi Service in Hyderabad Cabs booking, Taxi Service in Hyderabad taxi booking in hyderabad
VRCABS Cab Services
Affordable Car Rentals: VRCABS offers Lowest Rates for booking Cabs in Hyderabad, we are most prefered Cabs.
Professional Drivers : We have Professional and Dedicated Drivers for Taxi Service in Hyderabad and local cabs in Hyderabad.
24×7 Cabs Availability: Customer can call at any time and Book cab for Taxi Service in Hyderabad and local cab service in Hyderabad.
Hyderabad Outstation Cabs
Hyderabad outstation cabs Hyderabad is one of the largest cities in South India and also the capital city. These specialties make the reason for huge visitors with various historical and pleasure spots in and around the city. By Hyderabad outstation cabs, it becomes much easier to hire car rentals and explore the all desired places nearby. Also, for corporate reasons, this city draws the attention of arrivals as businessmen. With the commercial activities, it would be good to make hire outstation corporate car rentals with drivers from Hyderabad. Also, there are various inner places that make the opportunities to enjoy the city with outer and these are Golconda Fort, Charminar, Chowmahalla Palace, Salar Jung Museum and various others to enjoy local. And VR cab services fully supports for the outstation car rentals from Hyderabad.
Why Choose VR cab services for Hyderabad Outstation Car Rental?
As the leading outstation taxi rental provider in Hyderabad, VR cab services offers the best car booking deal for your outer journey. With various cab booking offers, you will get various reasons and the best car rental deal from us. For the weekend gateways trip, we make available different car hire facilities for a long trip or a group tour. If looking for corporate travels in and around the city, VR Cab Services will make good opportunities to find the best Hyderabad cab services at affordable fare prices. With Hyderabad outstation cabs hire, you can get cabs rental facilities at the best & affordable fare packages. Our 24 x 7 services of cab booking fully support customers for frequently car hire when they need any support regarding their cab booking.
How To Make Hire Hyderabad Outstation Cab Booking From VR Cab Services?
To book Hyderabad outstation cab booking, you will get many options from VR Cab Services. And from all those, one would be a car hiring by calling customer care. Booking your cabs by calling customer care would be one of the best options to book your taxi just by some discussion on the phone with our agents. And it would also be one of the affordable fare rates dealing for your outstation rental cabs. For all that, call us at +91 7702664048 or +8317578961 to make hiring a car by quick and fast..
Secondly would be online outstation taxi booking in Hyderabad. We will fully support your Hyderabad outstation online car booking and it can be easily done by following some steps of the website. You will make hire various options for different outstation cab hire deals and also find the fare rates of different cabs to choose what suits best. If getting any issue regarding the booking of your cabs, you will soon get the call or email from our agents.
Thirdly may be a cab booking and finding a quotation through the email. An email booking is also one of the good options to send your itinerary frequently and get the quotation for your trip in the details. Especially if there is a long list of your places to explore then send us and ask for a detailed quotation. And also book your car according to the fixed trip plan. Use [email protected] for sending the email to us and also send your travel plan in detail to get a good outstation car rental deal from Hyderabad.
For How Long You Can Rent Hyderabad Outstation Cab Services?
VR Cab Services always makes the outstation cab booking services on the basis of the travel plan. And it does not matter where one is traveling; all the things depends on your journey details that you sent us. You can plan your trip by outstation car rentals for all over India and for any of the cities nearby Hyderabad. Whether traveling in a group or with your family, it would be a good option to book an outstation taxi from Hyderabad easily. With 24 x7 cab rental services, you also find full customer support regarding your entire trip. And also with a good deal and affordable prices, you can fully enjoy your journey.